The Zen of Fundraising
Ken Burnett. Jossey-Bass Inc.
Published 2006. £18.99+postage and packing.
Softback, 176 pages. ISBN 0-7879-8304-4.
If all that has ever been said and written about the art and science of fundraising could be distilled down to just what really matters – what fundraisers everywhere need to know – there would be only a small number of true gems deserving of the description, 'nuggets of information'.

Ken Burnett, author of the classic Relationship Fundraising, has identified and defined 89 such nuggets for his new book The Zen of Fundraising, a fun read, one-of-a-kind look into what makes donors tick and – more importantly – what makes them give.

Nearly three decades as a leading international fundraiser have taught Ken what donors want and how fundraisers can best deliver it. To achieve their true potential fundraisers now have to really understand their donors and their causes, to communicate more effectively, to engage, involve and inspire their donors more consistently, to be extraordinarily good to do business with, to play smart and keep themselves and their colleagues motivated as they do it. In short, fundraisers have to ensure their thinking is right so they can get all their important messages spot on, appreciated, remembered and acted upon. This book will show fundraisers how to do all that and enjoy their work too, while they make the world a better place.

The Zen of Fundraising will entertain and surprise you but more importantly, it will help you to sort out what's important and what matters, what you really need to know from what's merely interesting and worth knowing.

If you are having trouble with the order form at left, please try here.
See also from this author Relationship Fundraising, Friends for Life, Tiny Essentials of an Effective Volunteer Board and Storytelling can change the world.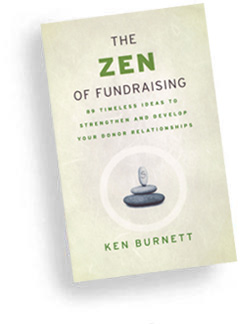 'This book is wicked. I brought it because I started to work for a charity and I wanted to be fab at my job. It's simple and logical and easy to follow. A lot of it is common sense that we appear to have forgotton. Buy this book and make your fundraising more effective!!!'
J. Matthews , on Amazon
See here what About.com has to say about The Zen of Fundraising.