Relationship Fundraising
x
A Donor-Based Approach to the Business of Raising Money, second edition

Ken Burnett.
The White Lion Press Limited/Jossey-Bass Inc.
Published 2002. £47.50 +postage and packing.
Hardback, 374 pages. ISBN 0-7879-6089-6

Internationally acclaimed fundraising consultant Ken Burnett has completely revised and updated his classic book Relationship Fundraising to offer fundraising professionals an invaluable resource for learning the techniques of effective communication with donors in a fast-changing environment. Filled with illustrative case examples, donor profiles and more than 200 action points, this ground-breaking book shows fundraisers how to
• Implement creative approaches to relationship-building fundraising.
• Avoid common fundraising errors and pitfalls.
• Apply the vital ingredients for fundraising success.
• Build good relationships with donors through marketing.
• Achieve a greater understanding of donors.
• Communicate effectively with donors – using direct mail, the press, television, the telephone, face-to-face contact, and more. Prepare for the challenges of twenty-first century fundraising.
Relationship Fundraising is an invaluable resource for anyone concerned with effective marketing for social service groups, universities, campaigning organisations, arts groups, or any nonprofit organisation that depends on public support to achieve its mission.
Some selected reader's comments
See also from this author The Zen of Fundraising, Friends for Life, Tiny Essentials of an Effective Volunteer Board, The Field by the River, Storytelling can change the world and The essence of Campaigning Fundraising.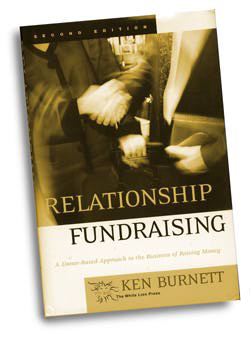 'Relationship Fundraising was in many ways a book ahead of its time. I remember reading it when it came out and being inspired by its simple truths. It is a book I have recommended to many people and the well-thumbed copy on my office shelf has been consulted by many of my colleagues over the years.'
Simon Collings,
writing in Professional Fundraising magazine.
'The book that changed my life'