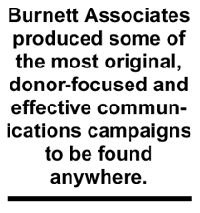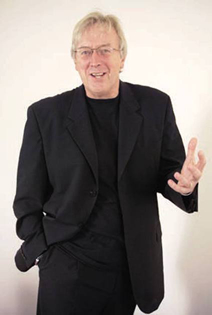 The text below hasn't been updated for some time. For an up-to-date biography see here.
About the author
Ken Burnett is an author, lecturer and consultant on fundraising, marketing and communications for nonprofit organisations worldwide. In the early 1980s he founded Burnett Associates, the first company of its type in Europe. Burnett Associates produced some of the most original, donor-focused and effective communications campaigns to be found anywhere. He still works closely with the original part of that agency group, Burnett Works Limited. Ken is also co-founder of Revolutionise (originally Clayton Burnett) a transformational consultancy started with friend and long-time business partner Alan Clayton. He is a director of The White Lion Press Limited and as managing trustee is currently working with fundraisers worldwide to build and develop SOFII, the Showcase of Fundraising Innovation and Inspiration. (http://www.sofii.org).

Ken has served on several non-profit boards and was until recently an independent trustee of ActionAid International, of which he is a founding board member. Ken was chairman of ActionAid from 1998 to 2003, is a former vice chair of The UK's Institute of Fundraising, a former trustee of BookAid International and the International Fund Raising Group (now The Resource Alliance). He's currently an independent trustee of the Disasters Emergency Committee and a commissioner of the Commission on the Voluntary Sector and Ageing. Ken is a fellow of the Institute of Fundraising and an honorary fellow of the Institute of Direct Marketing. Until recently Ken Burnett contributed articles from time to time for parts of Guardian Newspapers Group, including Guardian Weekly, The Guardian Unlimited/Society Guardian website and also other magazines and websites.

Ken is author of the worldwide best seller Relationship Fundraising, its sequel Friends for Life: Relationship Fundraising in Practice, How to Produce Inspiring Annual Reports, Tiny Essentials of an Effective Volunteer Board and The Zen of Fundraising. All of his books can be found on http://www.whitelionpress.com. Ken's first non-fundraising book, The Field by the River, was published by Portico books, an imprint of Anova, to high critical acclaim. In 2014 Ken published Storytelling can change the world.
See more of Ken's writing and sign up for his free occasional blogs here.

In 2007 Ken Burnett was recipient of Professional Fundraising magazine's 'Outstanding Contribution' award (click here to download PDF) and the UK Institute of Fundraising's 'Lifetime Contribution' award (see here).
When not travelling for seminars or on behalf of clients Ken Burnett spends his time betweenLondon and Suffolk in the UK. So he's easiest to contact by email, at ken@kenburnett.com.
September 2014