Donors for Life:
a practitioner's guide to relationship fundraising
Craig Linton and Paul Stein, The White Lion Press Limited. Published 2017. £22.95 (US$29.55)+postage and packing (see order form for details). Softback, 20 chapters, 370 pages. ISBN ISBN: 978-0-9553993-6-7

It's a great theory, but how does it work in practice?
In this defining new book two experienced fundraising directors tell all, sharing tips, pitfalls, ideas and inspiration on every page. Through 20 packed chapters Paul and Craig explain the theory too, shining bright light on what commitment to a relationship fundraising approach means for fundraising colleagues, other staff, volunteers, trustees, donors and your charity's bottom line – your ability to deliver on its mission.
'Donors for Life is actually a gold mine. This long overdue worthy successor to Ken Burnett's Relationship Fundraising is, as its title suggests, packed with lessons, practical tips and insights based on the hands-on experiences of two senior fundraising leaders. It's an easy, enjoyable read as step by step it resets the agenda for a donor-based approach to the business of raising money.'
Roger Craver, The Agitator, USA.
Published August 2017
See also Relationship Fundraising, Friends for Life: relationship fundraising in practice and The Zen of Fundraising.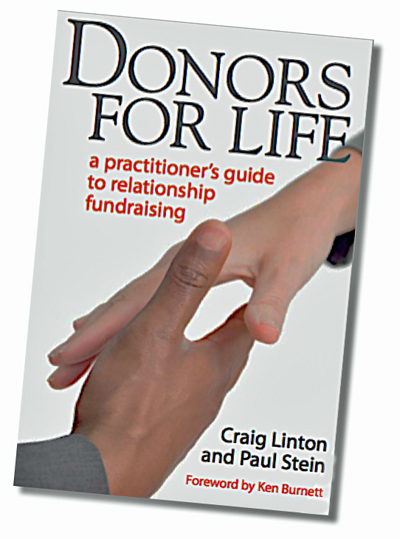 CONTENTS LIST:
Fundraising and nonprofits in the twenty-first century, Relationship fundraising: what it is. Why people give and the importance of emotion. Developing a relationship fundraising strategy. Creating a culture of relationship fundraising. Recruiting your donors. The seven elements of successful donor recruitment. The seven elements in action: four outstanding donor recruitment campaigns. Integration: creating a seamless experience for donors. A tale of two brands. Friends for life: welcoming and keeping your donors. Community fundraising, mass participation events and peer-to-peer fundraising. Major donor fundraising: launching a twenty-first century programme. Transformative appeals. Techniques for specialist areas of fundraising. Legacy fundraising. How do people make decisions? Rekindling friendships. Measurement of performance, innovation and the planning cycle. Further reading.