Retention Fundraising: the new art and science of keeping your donors for life
Roger M. Craver, Emerson & Church Publishers.
Published 2014. £20.50 +postage and packing (see order form for details).
Softback, 170 pages. ISBN: 978-1-889102-53-5

There's gold in your current donors waiting to be mined. And in Retention Fundraising, Roger Craver has drawn a detailed map to those riches. Best of all, responding to what your donors want isn't costly, as Roger shows in real-life examples. Through painstaking research, he has singled out the exact ways an organisation can deepen donor commitment.
For three years, Roger Craver immersed himself in a study of nonprofits in the USA. and the UK. His singular aim was to uncover why donors quit an organisation and what can be done to make them stay. Among many other findings, he uncovered seven key 'drivers' that deepen a donor's commitment, the eight primary reasons why donors stop giving and the major barriers to donor retention.
'...Business is rather simple, whether nonprofit or for profit…LOYALTY IS THE HOLY GRAIL. The bakery will close without repeat customers. So will the bank. And much as we pretend otherwise, nonprofits will close without repeat donors.

'Loyalty. Retention. That's our business as nonprofits... BUT HERE IS ROGER'S BOOK! Help is here. Read it now. And make sure your CEO reads it. And make sure a few board members read it too.'
Simone Joyaux ACFRE, author of Keep Your Donors
Save 10 per cent. See special offer when this book is bought jointly with Ken Burnett's Storytelling can change the world.
.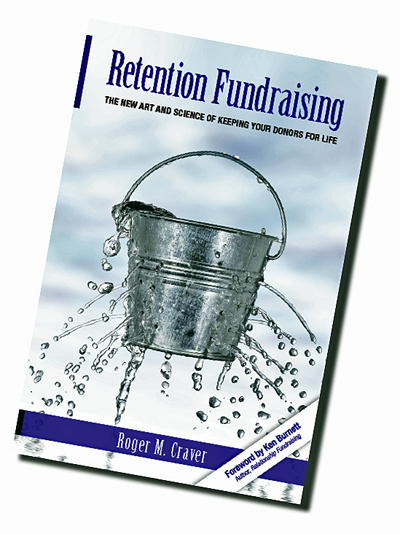 'Whether you think you know what it takes to keep your donors, or donor retention is brand new to you, open your mind and expect Roger Craver's book to challenge your assumptions: then put the advice he offers to the test. I emerged a smarter fundraiser having read Retention Fundraising... you will, too.'
Lisa Sargent, author, SOFII's donor thank-you clinics